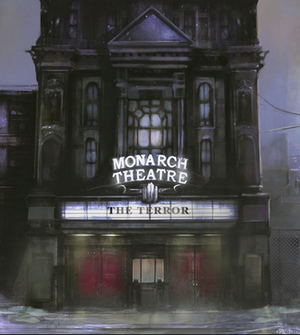 The Monarch Theater was a theater in Gotham City which acted as both a movie theater and a play theater.
The Park Row Tragedy
Edit
The Park Row Tragedy was what the news papers called the murder of Thomas and Martha Wayne. One night after taking their son, Bruce, to see The Mark of Zorro Thomas and Martha were gunned down by Joe Chill.
Basil Karlo
Edit
Nearly twenty years later a man named Basil Karlo became a very famous stage actor and worked at the Monarch Theater and stared in various plays. After an accident he was turned into Clayface. However, Batman was able to expose Clayface to the public during one of Karlo's play's and defeat him.
List of known programs shown at Monarch Theater
Edit
Known employees
Edit
Ad blocker interference detected!
Wikia is a free-to-use site that makes money from advertising. We have a modified experience for viewers using ad blockers

Wikia is not accessible if you've made further modifications. Remove the custom ad blocker rule(s) and the page will load as expected.