"LexCorp, technologies for tomorrow."
-The LexCorp slogan
"LexCorp, bringing hope to Gotham."
-Slogan for the Gotham City branch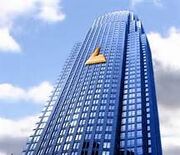 Luthor Technologies
Edit
Luthor Industries
Edit
Luthor Communications
Edit
Luthor Enterprises
Edit
Luthor Financial
Edit
Luthor Foundation
Edit
Property holdings
Edit
Advanced Research Laboratories
Edit
Secur-Corp Armored Car Service
Edit
North American Robotics
Edit
Hell's Gate Disposal Service
Edit
Cadmus Labs
Edit
Good Foods Group
Edit
Ralli's Family Restaurants
Edit
Koul-Brau
Edit
Big Belly Burger
Edit
Employees
Edit
Ad blocker interference detected!
Wikia is a free-to-use site that makes money from advertising. We have a modified experience for viewers using ad blockers

Wikia is not accessible if you've made further modifications. Remove the custom ad blocker rule(s) and the page will load as expected.