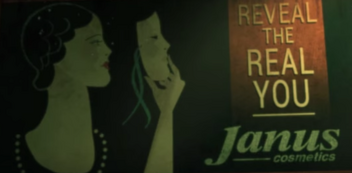 "Reveal the real you."
"Get exposed."
-The Janus Cosmetics slogans
Known employees
Edit
| Name | Position |
| --- | --- |
| Charles Sionis | Founder / First C.E.O. |
| Roman Sionis | Current C.E.O. |
| Circe | Former Secretary |
In the comics Roman Sionis was a terrible business manager and lost Janus Cosmetics to Bruce Wayne. In Batman: Guardian of Gotham Roman Sionis was instead an exelent business manager and ran Janus Cosmetics very successfully.
Ad blocker interference detected!
Wikia is a free-to-use site that makes money from advertising. We have a modified experience for viewers using ad blockers

Wikia is not accessible if you've made further modifications. Remove the custom ad blocker rule(s) and the page will load as expected.