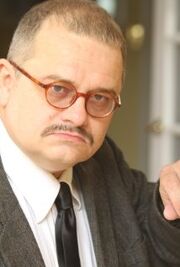 Gregory "Greg" Baldwin is an American actor. He is known for his roles in BioShock, TMNT, F.E.A.R. and Cars. He was a student of Mako Iwamatsu and took over several of his cartoon roles after his death.
Batman: Guardian of Gotham Role
Edit
Greg Baldwin was chosen to play Shihan Matsuda because of his role as Iroh in Avatar: The Last Airbender. He uses the same voice he used to voice Iroh to voice Matsuda.
Ad blocker interference detected!
Wikia is a free-to-use site that makes money from advertising. We have a modified experience for viewers using ad blockers

Wikia is not accessible if you've made further modifications. Remove the custom ad blocker rule(s) and the page will load as expected.